Sectona Launcher error - UAC Handled: A UAC prompt was closed automatically
Problem Statement
Error occur while taking an RDP of target server via PAM using Sectona Launcher.
Error: "UAC Handled: A UAC prompt was closed automatically."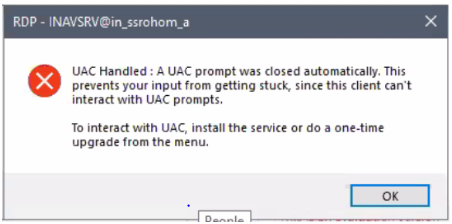 Symptoms
User Account Control (UAC) is a Windows security component designed to protect your computer from accessing and using files from sources that are not approved by an administrator. Occasionally while attempting to perform tasks related to either installing an application or Launching a specific application, UAC may block access to program files that are necessary to complete the task, resulting in an error message, or unexpected behaviour.
Because of this when we are trying to launch a session using Sectona Launcher, UAC on user machine is blocking the access to the application files due to which Launcher is unable to initiate the session.
Solution
To resolve this issue, we need to configure the UAC settings on User machine to low or we can turn it off.
To check for the UAC setting on User machine follow the below mentioned path:
Click Start > Search for control Panel > Security and Maintenance > Under Securities select User Account Controls and click on Change settings.